The Styrofoam switch
In 2021, we launched a project to convert packaging for granite sinks (Fragranite) and sinks made of synthetic materials (Tectonite) from Styrofoam, also known as expanded polystyrene or EPS, to cardboard. The project was conducted at Franke's plant in Strečno, Slovakia, which produces more than one million granite sinks annually. Improvements in packaging at the plant can therefore have a decisive impact on Franke's overall environmental performance.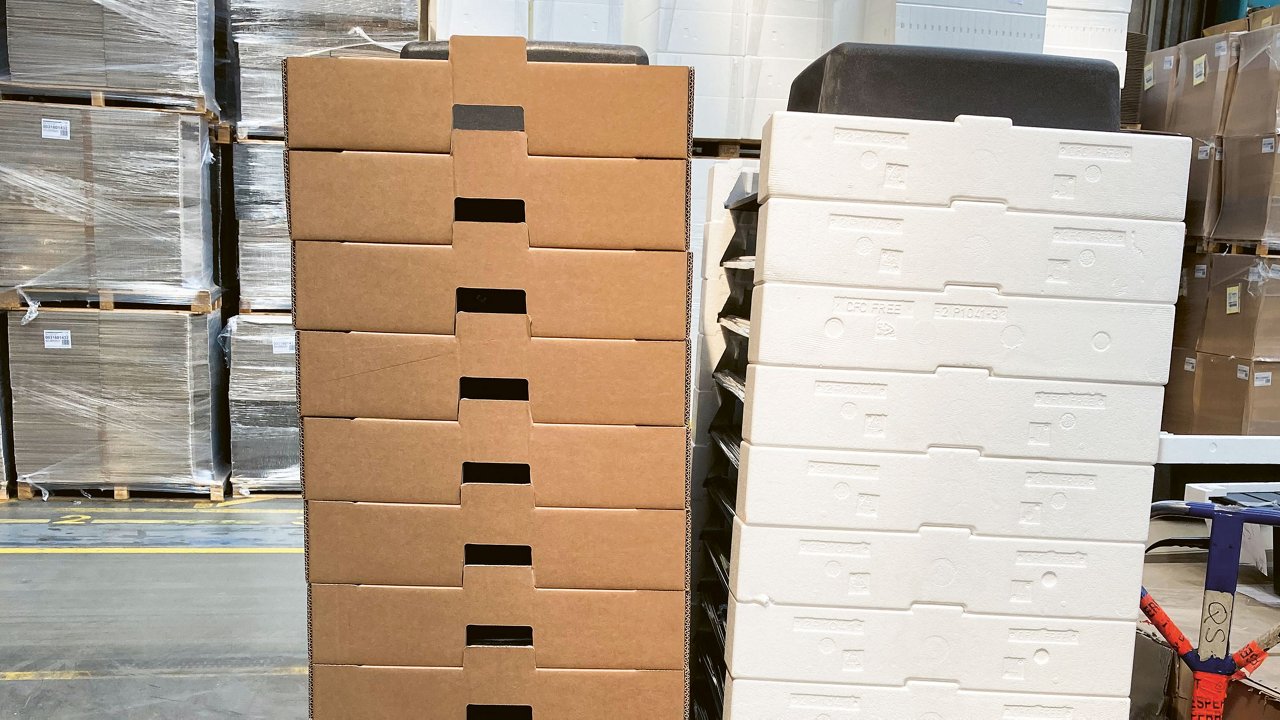 A collaborative innovation process
Franke teams specializing in quality, technology, production, logistics and procurement worked together to design a way in which cardboard could replace Styrofoam while ensuring that all stages in production and distribution were optimized. With the new packaging process, the cardboard is delivered pre-cut and in a flat configuration, saving space in the warehouse that would ordinarily be taken up by the Styrofoam protective frames. When a production order comes in, a dedicated packaging machine folds and glues the cardboard to create the new frames. The granite sinks are then manually pushed into the cardboard frames, stacked on palettes, and transported from Strečno to Franke's distribution centers using only this primary packaging. Here, the sinks with their primary packaging are inserted directly into boxes (secondary packaging) together with accessories and other components required for each specific country. This process enables us to optimize our packaging for every step of production.
Multiple benefits of cardboard compared to Styrofoam packaging
A key advantage of using cardboard is its high recyclability and lower carbon footprint compared to Styrofoam. It is made from renewable resources, takes up less room in our production plants, avoids unnecessary waste and presents much less of a fire hazard than Styrofoam. The new cardboard frames also improve stability during transportation and have ergonomic benefits: handles on the cardboard frames mean the packaged sinks can be moved easily.
Following extensive testing and trials at our Strečno plant, Franke began rolling out the switch across its distribution centers around the world, and in recognition of its success, the new packaging solution for Tectonite sinks won an award at OBAL ROKU, the National Competition of Packaging Innovations and Design in Slovakia and the Czech Republic. Franke's packaging solution was judged against more than 100 packaging solutions from 40 different countries.
We are now looking to develop the process further with the Industrial Engineering Operations team at other Franke sites.
Contact the Sustainability Team
Do you have questions or suggestions for sustainable solutions? Just send us an e-mail.